Collapsible content
Lusanet Collective

Lusanet Collective is a retail store in the heart of Downtown Burbank. We are devoted to our
community and to show our appreciation, we host in person and also online shopping events to help raise funds for the organizations we work with.  In return, we introduce them to small, local and international designers.

We curate unique sip and shop events and experiences for our guests.  Additionally,
we market the organizations and designers we work with by adding them to our mailing list and promoting them on our various social media platforms.

Make your fundraising a memorable event and join our collective.

Lusanet Collective is a creative hub and retail space launched by Lusine Simonyan and Anet Abnous, two business owners with a vision of connecting founders and creators with opportunities to network, create, and promote their businesses through every stage of development and growth.

 As entrepreneurs themselves, Lusine and Anet have encountered the highs and lows of transforming their passions into professional pursuits and possess a variety of experiences gained by developing, launching, and expanding their own businesses. With those experiences in mind, Lusanet Collective aims to resolve the challenges faced by small and growing businesses.

Featuring a retail space that showcases items for sale, Lusanet Collective also seeks to serve the creative community as an idea-exchange platform, a resource bank, an exhibition venue, and, most importantly, a gathering of like-minded creative professionals who will come together as part of a nurturing and encouraging environment focused on business development and professional and personal growth.

Through monthly pop-ups and curated events, members of the collective, which will include artists, designers, and business owners, will gain access to new audiences and critical resources that will elevate their businesses and brands and enable them to discover new partnerships with investors, manufacturers, and developers. As the community grows, the collective will foster the personal connections that will support, empower, and guide business owners as they discover the endless opportunities available to them.

 

 

MEET THE FOUNDERS

 

Lusine Simonyan

 

In 2019, Lusine Simonyan launched Miray Collections, an online marketplace that represented more than 40 Armenian artists, fashion  designers, and jewelry makers from around the world. Driven by her unwavering passion and determination, Lucy embarked on a journey to empower artists and showcase their unique, sustainable creations on a global scale. Her venture, Miray Collections, served as more than just a retail platform for Armenian goods; it became a pathway for artistic growth and entrepreneurship, particularly for Armenian women.

Lusine has a Master's Degree in Accounting and Finance from French University in Armenia and works as a Senior Accountant in Downtown Los Angeles. 

In addition to loving numbers, Lucy is very involved in the community. She serves as a treasurer in Burbank Armenian Association board and in Zonta Club of Burbank. In 2021 she was nominated for the 32nd Annual Women Achievers Award.

In 2022, Lusine Simonyan and Anet Abnous, joined forces to transform the digital dream into a tangible reality. The result is the "Lusanet Collective," a brick-and-mortar store that stands as a testament to their shared commitment to supporting artists and artisans. In this new chapter, Lucy and Anet bring the dreams into the physical world, providing a space where artists' high-quality, sustainable creations can be experienced firsthand by a broader audience. Just as before, their mission remains grounded in the belief that artistry and entrepreneurship can flourish hand in hand, fostering opportunities and growth for creative individuals, particularly women.

 

Anet Abnous

Anet Abnous is a visionary artist, creative director, and CEO of Anet's Collection, arenowned Fashion and Accessories brand renowned for its art-inspired designs. With a deep-rooted passion for wearable art, nurtured by her tailor father, Anet founded Anet's Collection in 2015. Her creations, a fusion of Armenian cultural motifs and luxury aesthetics, have graced European showrooms, museum shops, and retail outlets.

Anet's blend of luxury retail and visual styling infuses innovation into her designs. Her work has been showcased in international exhibitions, publications, and she's curated numerous art shows. Beyond her creative pursuits, Anet actively supports nonprofits, leveraging her networking skills for fundraising.

Educated in Fine Arts from CUNY-Queens College, with Fashion credentials from Iran, and a Business Certificate from Cornell University's Bank of America Institute for Women's Entrepreneurship via a Tory Burch Foundation grant, Anet's qualifications underscore her expertise.

As co-founder of Downtown Burbank's Lusanet Collective, Anet merges artistry with business acumen. Lauded by media like CBS-KCAL and FOX 11-Good Morning LA, this venture exhibited the works of over 100 creators in its first year.

Anet's creations reflect her unique talent and vision, continuing to inspire globally. Joining the Burbank Art Commission at 2023, she's set to enrich the local art scene with her distinct perspective and connectivity, solidifying her impact in both fashion and art.

 
Fundraising with Lusanet

Elevate Your Fundraising with a Memorable Sip and Shop Event

Located in the heart of Downtown Burbank, Lusanet Collective is more than just a retail store. Our unwavering commitment to the community has led us to organize engaging in-person and online shopping events, specifically designed to raise funds for the organizations we proudly collaborate with. As a result, we offer a unique opportunity to not only contribute to a noble cause but also discover exceptional designs from both local artisans and global talents.

Immerse yourself in the world of curated sip and shop events and allow us to craft an unforgettable experience for your guests. At Lusanet Collective, we go beyond simply hosting fundraising events; we strive to create an atmosphere where patrons can indulge in a seamless blend of shopping, networking, and supporting worthy causes. As part of our commitment, we extend our marketing efforts by featuring the organizations and designers we collaborate with on our exclusive mailing list and across our diverse social media platforms, ensuring their names reach a wider audience.

Make your fundraising initiative stand out from the rest and become part of our esteemed collective. Join us in celebrating the intersection of philanthropy and fashion, while making a lasting impact on your community. Together, let's create a truly memorable event that leaves a lasting impression.
Special Events with Lusanet

Lusanet Collective: Your Vibrant Venue for Unforgettable Events

Welcome to Lusanet Collective, the premier pop-up retail space nestled in the heart of Downtown Burbank, offering a spacious and inviting environment with ample parking. Our collective is the perfect destination for hosting special and intimate events that will leave a lasting impression. With our ability to transform the space to meet your unique needs, whether it's an art gallery, a retail haven, or anything in between, Lusanet Collective is here to make your vision a reality.

Why choose Lusanet Collective? Allow us to share with you a glimpse of the remarkable events we have previously hosted, events that have left our guests captivated and inspired:

Art Gallery Exhibition: Immerse yourself in a breathtaking display of artistic brilliance as we showcase a diverse range of talented artists, fostering an atmosphere of creativity and exploration.
Wine Tasting: Savor the flavors of the finest wines, meticulously curated to delight your palate. Indulge in an evening of refinement and sophistication, surrounded by the charm and ambiance of our inviting space.
Wine & Paint: Unleash your inner artist while enjoying a delightful selection of wines. Under the guidance of skilled instructors, create your masterpiece and revel in the joy of artistic expression.
Mixer & Networking: Forge valuable connections and expand your professional network in a lively setting. Our collective provides the perfect backdrop for meaningful conversations and collaboration.
Children & Education: Nurture young minds and ignite their imagination through engaging educational events tailored specifically for children. Watch as their faces light up with joy and wonder.
Live Art Performance: Immerse yourself in the captivating world of live art. Experience the dynamic synergy between artists and their creations as they come to life before your eyes.
Book Signing: Meet acclaimed authors, listen to their captivating stories, and have your treasured books personally signed. Discover new literary gems and share your love for the written word with fellow book enthusiasts.
Wellness Event: Embrace a holistic approach to well-being in our serene and inviting space. Join us for rejuvenating activities that promote physical, mental, and emotional harmony.
Meet the Founder Event: Gain invaluable insights and inspiration from the visionary behind Lusanet Collective. Engage in an intimate conversation, and learn about the collective's journey while enjoying the warmth of our inviting atmosphere.
Music and Poetry Performances: Be serenaded by the soul-stirring melodies and heartfelt verses of talented musicians and poets. Lose yourself in the rhythm, allowing the power of music and poetry to transport you to a place of profound emotion.

At Lusanet Collective, we take pride in working with a trusted network of vendors who are passionate about delivering excellence. Rest assured that we have the expertise to assist you in creating a truly extraordinary event. Whether you seek a one-time affair, a daily event, a weekend pop-up, or a recurring weekly gathering, we are here to cater to your unique requirements.

Join our collective and embark on a remarkable journey of creativity, connection, and celebration. Discover the possibilities that await you at Lusanet Collective, where every event is infused with a touch of magic.
Meet & Greet & Shop
Join us for some wine & cheese, meet & greet and meet 3 Founders from Armenia
RSVP to Join
Sacred Treasure Art Exhibition Opening Reception
Join us for the grand unveiling of our "Sacred Treasures" collection, a modern take on Armenian ornamental art by Arpy Dabbaghian
RSVP
Regular price
Sale price
$80.00 USD
Unit price
per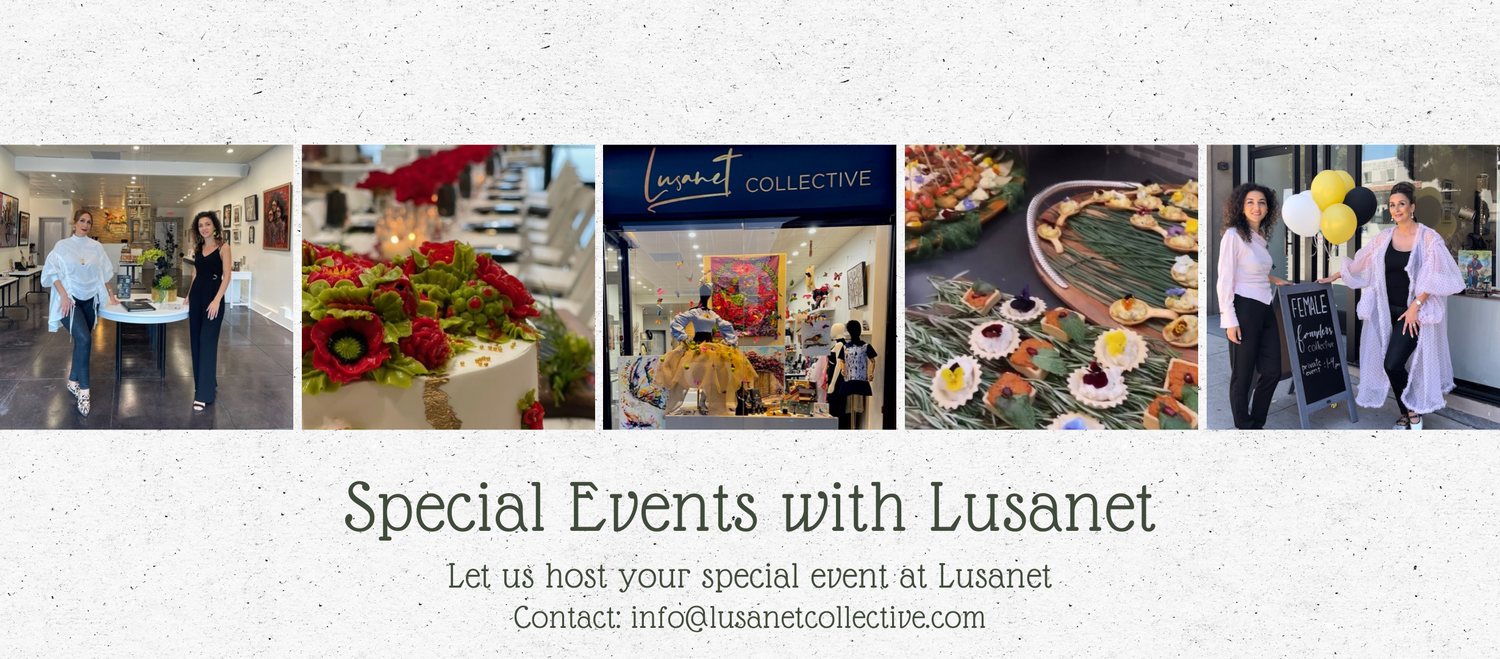 Hosted events at Lusanet
Art Gallery Exhibition
Wine Tasting
Wine & Paint
Mixer & Networking
Live Art Performance
Book Signing
Wellness event
Meet the Founder Event 
Contact Us
Carolina Espiro: The Journey of an Award-Winning Director and Actor   When it comes to the world of entertainment and glamour, one name that is consistently making waves is Carolina...

Carolina Espiro: The Journey of an Award-Winning Director and Actor   When it comes to the world of entertainment and glamour, one name that is consistently making waves is Carolina...

Lusanet Collective Opens Space for Creative Collaboration By David Laurell - August 23, 2023 Anet Abnous and Lusine Simonyan, the women behind the Lusanet Collective, celebrated their first year in...

Lusanet Collective Opens Space for Creative Collaboration By David Laurell - August 23, 2023 Anet Abnous and Lusine Simonyan, the women behind the Lusanet Collective, celebrated their first year in...
UNIQUE SELECTIONS

At Lusanet you will find the space and the support to showcase your unique products.

We are here to connect with you, listen to your needs and host curated events to grow your business.

JOIN LUSANET

We are looking for exclusive brands with unique point of view in Clothing, Fashion Accessory, Jewelry, Collection Presented must be in line with Lusanet Collective aesthetics.

PERKS OF BEING PART OF LUSANET COLLECTIVE

Located in Downtown Burbank – Media Capital of the World
Media/Social Media Exposure
Publication Opportunities
Curated Space with Professional Presentation
Exposure to Lusanet Collective Mailing lists
Numerous Non-profit Organizations
Email & Text Marketing
Online Presence

Opening Sip & Shop night
Hosting Group Shopping Events and Fundraisings With
Networking Opportunities for Vendors
Window Display Options
Accessory Shelf Unit Up
Packages To 35 SKUs